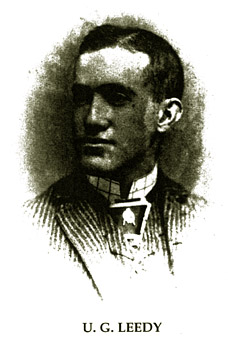 The Leedy Drum Company -
The strength of the Leedy legacy stands as a tribute to the founder, Ulysses G. Leedy. U.G. Leedy began his career as a professional percussionist in the 1890s. His personal need for instrument improvements led him to begin crafting his own. A good example is his first product, the folding drum stand. (Snare drums were hung on slings or placed on chairs until Leedy developed the stand.) Fellow musicians, quick to recognize the value and quality of Leedy,s creations, convinced him to start a business. With only $50.00 startup cash, Leedy set up a small shop in his Indianapolis apartment in 1898 and began making snare drum stands, then snare drums. Within two years he was able to buy four lots and build his first factory building.
The success of his business caused U.G. Leedy to curtail his professional career, although he continued to play an occasional concert, and gave free lessons to youngsters at his home on Saturdays. The Leedy product line quickly grew to include drum heads, xylophones, orchestra bells, and accessories. The factory expansions were almost continuous and the products became more widely distributed when Leedy began to wholesale his gear to shops across the country. One such shop was the one owned by William F. and Theo Ludwig; the exclusive Leedy sales agents in Chicago.
By 1920, Leedy annual sales were in excess of $250,000.00 and as the world,s largest manufacturer of percussion equipment, Leedy made it all. Except for cymbals, the Leedy Drum Company manufactured everything that it sold- a claim no other company could make.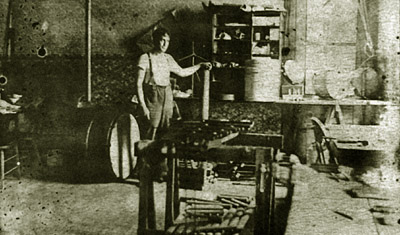 Leedy's First Drum Shop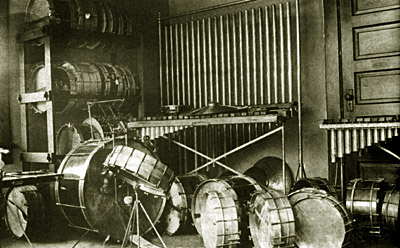 Early Leedy Products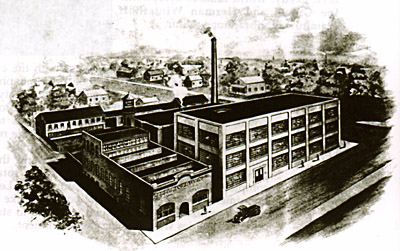 Leedy Factory Circa 1910